Shopping Basket
Your Basket is Empty
There was an error with PayPal
Click here to try again
Thank you for your business!
You should receive an order confirmation from Paypal shortly.
Exit Shopping Basket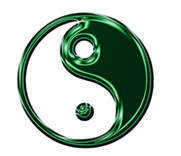 April 25 is World Tai Chi and Qigong Day, and a number of events are planned worldwide — including in Northern Virginia, where I'll conduct demonstrations at Meadowlark Botanical Gardens in Vienna, Va.
My workshop is part of Peaceable Dragon's Tai Chi and Qigong Day event from 10 am to noon April 25. The event will feature demonstrations, as well as mini classes and lectures on Tai Chi, Qigong and more.
My activies are a board break and "Intent: Mind Leads the Chi."
Meadowlark Botanical Gardens is located at 9750 Meadowlark Gardens Court, Vienna, Va. Click here for information on the event.
You also can e-mail me with questions.
Hope to see you there!

Cancer survivors may have a better health rate and reduce their chance of recurrence if they practice Tai Chi, according to a new report from UCLA.
The test involved 90 breast cancer survivors over a five-year period who also were experiencing insomnia. In breast cancer survivors, insomnia may cause inflammation, a "significant risk factor... known to make a cancer's recurrence more likely," according to UCLA Jonsson Comprehensive Cancer Center member Dr. Michael Irwin.
Some participants participated in a three-month Tai Chi course, while others were given congitive therapy for their sleep disorder.
The findings were significant, according to Southern California Public Radio:
[Irwin] said those who participated in a three-month Tai Chi course experienced significant reductions in inflammation compared with those who received cognitive therapy designed only to help them sleep better.

"What's really surprising about this study is the magnitude of the change we've found with Tai Chi within a very short period of time," Irwin said.

The difference appeared to be that while cognitive therapy is designed to address psychological issues that may make it hard for someone to fall asleep, Tai Chi targets the body's stress system, which is more directly linked to inflammation, he said.
Irwin noted that Tai Chi practitioners experience a decrease in the stress hormones produced by the sympathetic nervous system. 
The study, published November 4, 2014 in the Journal of the National Cancer Institute, is available online.
Learn more about rooting and improve your skills at a workshop set for 1-4 p.m. on Saturday, October 4, in Fairfax, Va.
The workshop will be on rooting; external and internal, importance of structure as it pertains to fajin, and "four ounces moves one thousand pounds."
Also learn about loading your root and your opponent's root for strength and martial application.
The workshop will be held at Green Acres Center, 4401 Sideburn Road, Fairfax, VA 22030.
Cost is $30 per person.Click the "workshop sign-up" tab at the top of this page to join us for this workshop.
For information about this workshop or other Tai Chi programs and classes, e-mail David.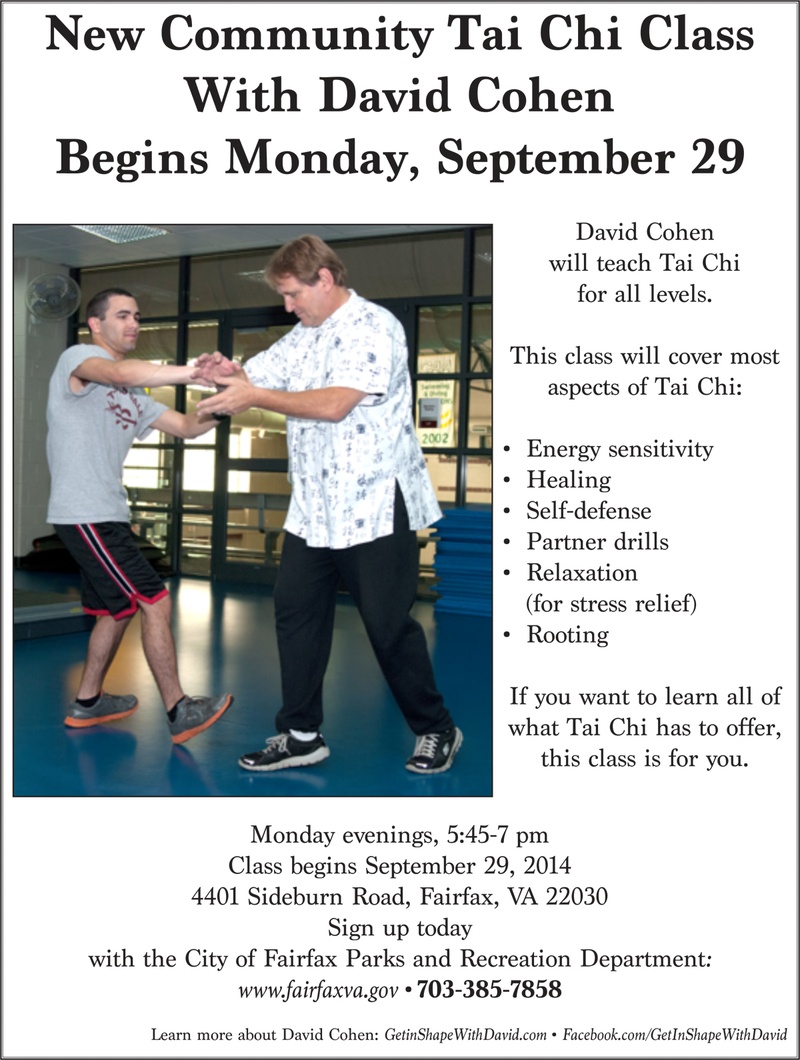 Science of Elastic Force Review Workshop
with David Cohen and Aaron Green 
10 a.m. to 5 p.m. Saturday, June 28, 2014 
Mid Atlantic Movement Art Studio, 630 Winchester Avenue, Martinsburg, WV 25401
Take a workshop with Tai Chi experts David Cohen and Aaron Green June 28 to learn more about the "Science of Elastic Force" practices of Mark Rasmus.
The workshop will be held from 10 a.m. to 5 p.m. at Mid Atlantic Movement Art Studio, Aaron Green's new Tai Chi school in West Virginia, as part of the school's grand opening.
Cost of the day-long workshop is $60. For information or to enroll in the workshop, e-mail [email protected] or visit the Mid Atlantic Movement Art Studio.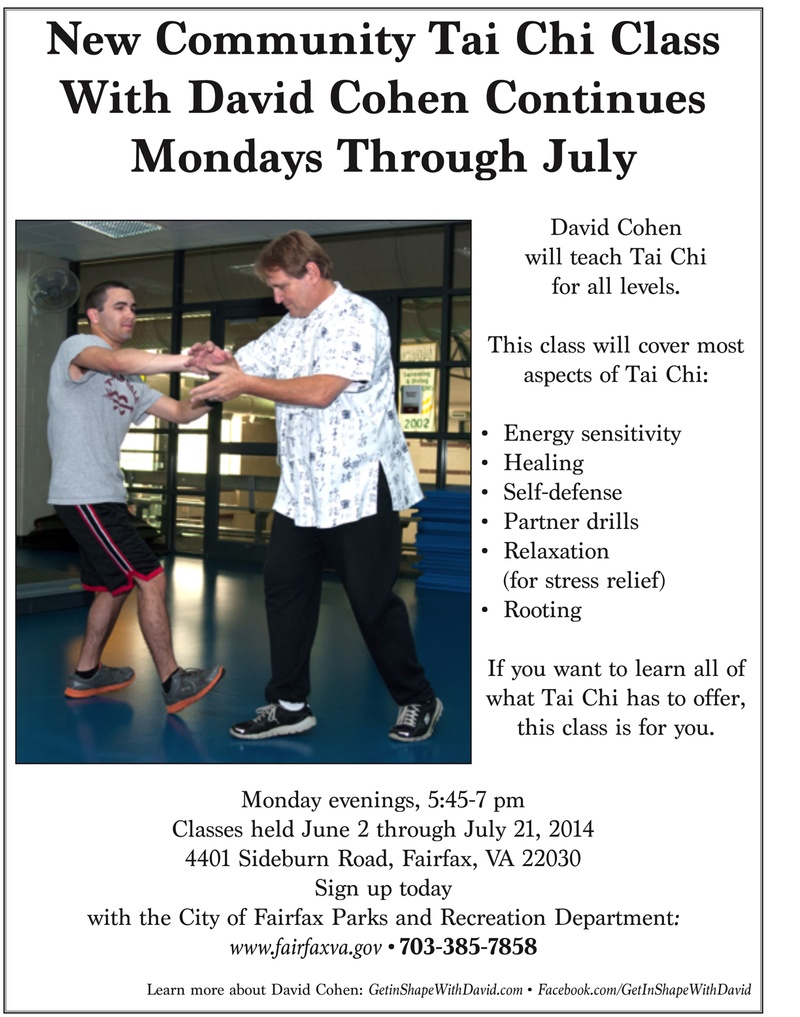 Practicing Tai Chi stimulates the body's production of stem cells, particularly beneficial to the aging body, according to a recent study by a team of physicians in the China Medical University Beigang Hospital in southern Taiwan.
The report, Tai Chi Intervention Increases Progenitor CD34+Cells in Young Adults, asserts that practitioners of Tai Chi produce more stem cells. 
Stem cells can provide replacement cells for diseased or damaged cells, such as Parkinson's disease, diabetes, arthritis, heart disease and burn victims.
In the study, 60 subjects were divided into three groups: one group undertook Tai Chi, one group took up speed walking and a third practiced no exercise at all.
After two years of practice, researcers found the stem cell counts increased by 300-500 percent in the Tai Chi control group. 
Regular Tai Chi exercises helped the subjects with heart function, reinvigorated neural cells in the brain, balanced excitement and inhibition controls, and helped with mental trauma and nerve exhaustion, according to Lin Hsin-jung, a neural surgeon and head of China Medical University Beigang Hospital who participated in the study.

Last year, when I heard Mark Rasmus was planning a workshop within a one-day drive from my house, the only thing on my mind was, "How am I going to get there?"
The workshop was held in a cabin built on 50 acres in the Smoky Mountains. Just being there was meditative.
Attendees of Mark Rasmus' workshops get an open book on all things martial arts and meditation. This is a man who has dedicated his life to practicing a variety of martial arts and spiritual enlightenment — and now he spends his time passing on that knowledge.
I have been lucky enough to attend three of Mark's workshops. By the end of each workshop, everyone is exhausted from the multiple Fa Jin practices. The excitement grows as each person in the room bounces their partners five feet away. The skills Mark teaches are the rare, true Tai Chi skills everyone seeks to obtain. What's more amazing is that Mark can teach this material in a weekend. 
Tai Chi practitioners who strive to add real skills into their Tai Chi toolbox, be it true martial skill or becoming more intuitive should take a workshop with Mark Rasmus. Find out more on his website, Science of Elastic Force, page, or "friend" him on https://www.facebook.com/Sifu.Rasmus" target="_blank">Facebook.

During my Tai Chi classes, I always get asked, "Why do we breathe the way we do? And why do we practice push hands?"
The answer to both of these questions is related. Breathing properly allows for better energy flow, and better energy flow increases health and relaxation.
When practicing push hands and the Tai Chi form, we concentrate on breathing during movement. This teaches us to relax while having better energy flow and posture through the course of our day.
When we practice the form, we learn to keep our bodies in alignment. During regular daily activities, we should always be mindful of keeping our head, hips, knees and feet in line.
Even when we are not practicing Tai Chi.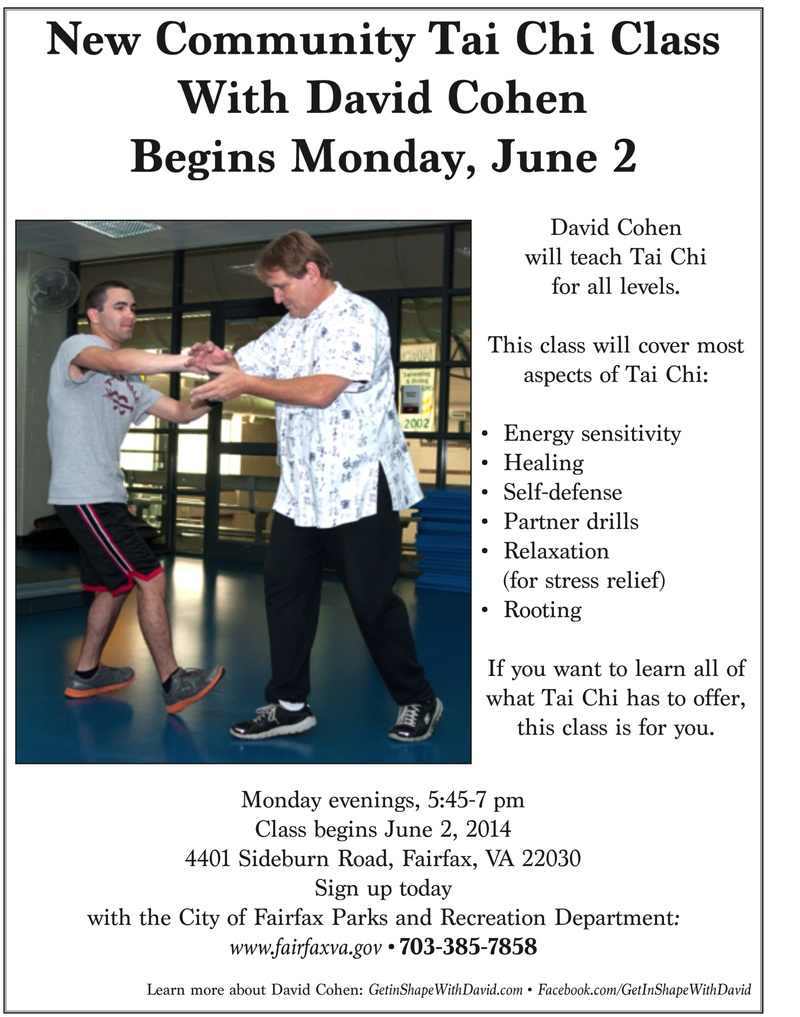 /